Now Available: Pirates of Pugmire! Plus: Buried Bones in print!
---
Now available in PDF and print-on-demand from DriveThruRPG: Pirates of Pugmire!
"Out here on the Acid Sea, it doesn't matter what your house is or what noble family you're fidescended from. All you need is a sturdy ship, a plastic hull, and a firm wind behind you. And maybe some guns."

— "Stumpy" Sabu Chromachilde, gecko captain of the Pig's Tale 
With the advent of the plastic hull, people of all species took to the Acid Sea to explore, seeking new shores and facing dangers unknown. Life on the sea is different than life in the relative safety of the kingdoms and monarchies. Sailors must face the dangers of hunger, starvation, or becoming hopelessly lost and adrift while the plastic hulls of their boats slowly melt into uselessness. Large portions of the sea remain unexplored and uncharted, denying pirates the assurance of a safe journey home. If treasure is found, there's always a hostile crew or two out there on the waves, lying in wait to raid returning ships. And twisted corpses of dead sea life animated by Unseen forces haunt the waves. It takes an extra level of grit to brave the Acid Sea. Do you have what it takes? 
Pirates of Pugmire is a chronicle sourcebook for both Pugmire and Monarchies of Mau. It's usable with either game, or as part of a joint experience.
Some highlights include: 
Two new species for players to enjoy: lizards and birds 
Six new callings, including two for dogs and two for cats 
Rules for building, sailing, and sinking ships 
A trove of new allies, enemies, and treasures 
Information on Waterdog Port and Port Matthew 
"Going on the Account," a chronicle of three new adventures, taking characters from 1st through 6th level 
Can you brave the Acid Sea?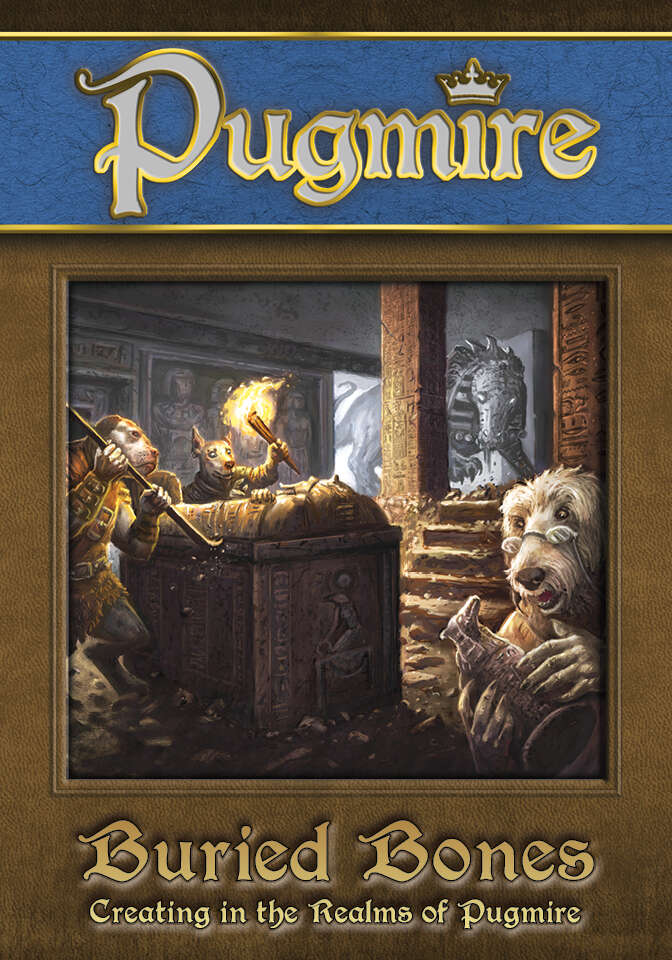 Also available in print from DriveThruRPG: Buried Bones: Creating in the World of Pugmire!
"Is Pugmire a joke?
No. Because it can be so much more."
– Eddy Webb
Since the release of Pugmire, creator Eddy Webb has gotten a lot of questions. Is Pugmire a "funny" game? Can I play my favorite dog? What products inspired the game? How can I make my Pugmire game as authentic as possible?
Collecting a variety of internal documents, email exchanges, blog posts, and community content projects, Buried Bones is the ultimate guide to creating in the Realms of Pugmire. Whether you're making your own products for the Canis Minor community content program, want to make your personal Pugmire chronicle as accurate as possible, or are just interested in some of the behind-the-scenes details of the world, Buried Bones is the book to read!
The writer's guide shared with all Pugmire and Monarchies of Mau creators!
Buried Bones includes:
A number of blogs related to the Realms of Pugmire, rewritten for this edition
A handy guide to help people convert material from the 5e OGL to Pugmire or Monarchies of Mau
Answers to frequently asked questions about the lore of the world and the mechanics of the RPGs
Sales
It's Christmas in July on DriveThruRPG! Hundreds of products from Onyx Path and associated community content are 25% off!
Kickstarter Update
Our latest Kickstarter, They Came from Beyond the Grave!, was launched yesterday, and funded in under five hours! We're currently at $25,887 of our $20,000 goal, or 129%, thanks to our 476 backers, and we're on our way to our first stretch goals!
Did you miss one of our previous Kickstarters? The following Kickstarted products are still open for preorders via BackerKit:
Community Spotlight
The following community-created content for Scarred Lands has been added to the Slarecian Vault in the last week:

The following community-created content for Realms of Pugmire has been added to Canis Minor in the last week:
The following community-created content for Storypath has been added to the Storypath Nexus in the last week: